A Matter of Materials
A lesser known neighbor of the celebrated Design Museum Holon, the Holon Mediatheque's Materials Library is a gem in its own right
Since its highly-anticipated opening in 2010, the Design Museum of Holon has become an international sensation. Designed by Israeli-born industrial architect and artist Ron Arad, the acclaimed museum is as well known for its landmark curved Corten steel exterior, as it is for the innovative exhibits found inside. Next to it can be found The Holon Mediatheque, housing several of the first-rate cultural institutions that Holon has established in its determination to transform its identity from suburban backwater to a compulsory stop for anyone on Israel's cultural circuit. (Indeed, in the past 20 years, the municipality has also built a children's museum, a cartoon museum, in addition to, of course, the Design Museum.) The Mediatheque itself is home to a cinematheque, a theatre, and what might be one of Israeli design's most fascinating and unsung gems: The Materials Library. The Library showcases over a thousand samples of the world's most cutting-edge materials, from all branches of industry. These include the very latest in plastics, wood, ceramics, paper, metal, composites, textiles and biodegradable products, all of which have commercial objectives.
Here is the place to see and touch (but not too hard) a mind-boggling variety of surfaces, ranging from repurposed Icelandic fish skin to a material that is literally as light as air. Every color, texture and shape is on display, creating a space that looks something like a kindergarten class on steroids. Truly, you could say material libraries are the meeting point between science and design. Holon's is one of a handful in the world but it is unique in that it is open to the public, as well as industry professionals and design students. It's officially part of the neighboring Design Museum. (An entrance ticket gives admission to both.) The Library is a logical extension of the Design Museum as the latter uses many innovative and unique materials its exhibits. As the director of the Materials Library, Shira Shoval discovers samples of new and exciting materials every month. On a recent visit to the library, she gave us a peak at some of her favorite new arrivals. Shoval's picks can be found below.
The Materials Library (joint admission with the Design Museum of Holon) NIS 30-35. Holon Mediatheque, 6 Golda Meir St, Holon (imatter.org.il)
3-D PRINTED CERAMICS
"Did you ever think you could print 3-D porcelain?" asks Shoval. "These guys (Studio Under)…design ceramic objects with the aid of a special printer they made." The materials they use for printing range from local clay to Chinese porcelain, and ceramic materials with advanced properties.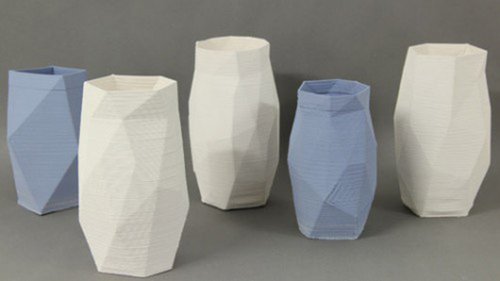 SUGRU
A self-setting rubber that can be formed easily by hand, Sugru bonds to almost anything: steel, glass, ceramics, wood and more. "This DIY material allows everyone to be a designer. Easy to work with, no equipment necessary, and anyone can use it to repair or change an object."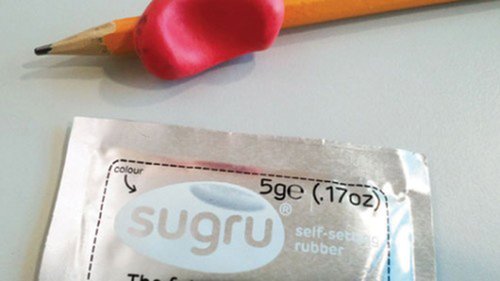 NEPTUNE BALLS
Neptune Balls are ocean waste and tangled seaweed fibers washed ashore. Containing hardly any salts and no proteins, they don't rot and can be used as insulation. "This is an exciting material made by nature and the fibers are actually 'felted' by the waves to form a perfect shape."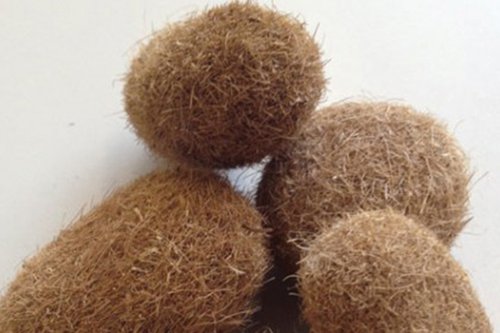 LUCCON
Made from translucent, fine-grained concrete and synthetic fibers, this material is cast layer-by-layer in prefabricated molds. "When you look at it flat, it looks like concrete. But when you hold it up to the light source you see through it. The combination of two age-old materials together is giving way to a revolution."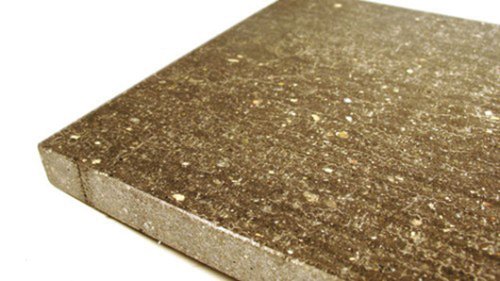 LUMI
This photographic print process for textiles and natural materials is based on Inkodye: water-based dyes, which develop non-fading color in sunlight. "It turns out different according to the UV light. In Canada, for example, where there is less sunlight, it will be a different kind of photograph than if it was printed in Israel."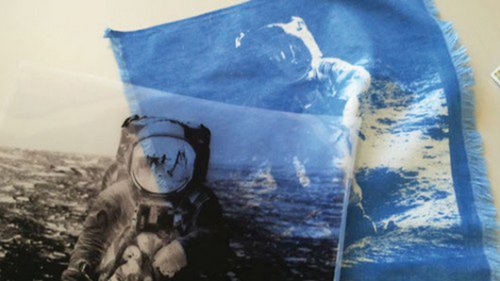 AEROGEL
Developed for NASA, this porous foam is derived from gel in which the liquid component has been replaced with gas to yield a solid. "It's the lightest material ever. It's like holding fog. It's also a new dilemma for the library: We want people to touch and feel the objects, but we have to protect them at the same time."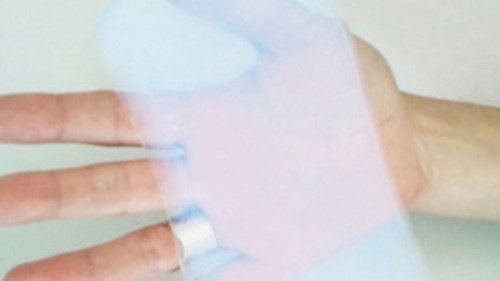 OPITCHRONIC GLASS
This is laminated safety glass is made of a fibrous dichroic (color filter) interlayer laminated between two pieces of low-iron glass. "This is 'magic' glass that changes color with every angle…It's part of our search for dynamic materials that react to their environment and to people."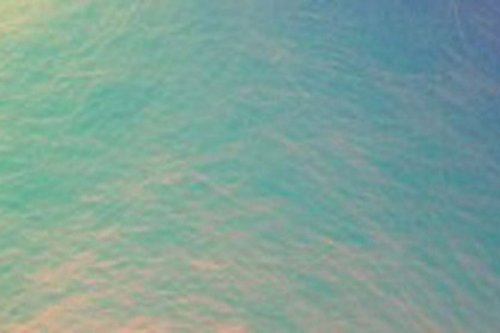 CHROMYX
These are temperature sensitive, color-changing, flexible sheets. "This is an example of an ever-growing trend of materials that react to their environment, that can be impacted by the user and therefore implemented in specific product designs or even lead to new features in a product."
ECOVATIVE
Grown from agricultural byproducts and mycelium, Ecovatine is a fungal network of threadlike cells. "It's the next step in materials and design: how can we 'grow' a material specific to our needs, in the exact shape of the final product. No waste, 100% recyclable."